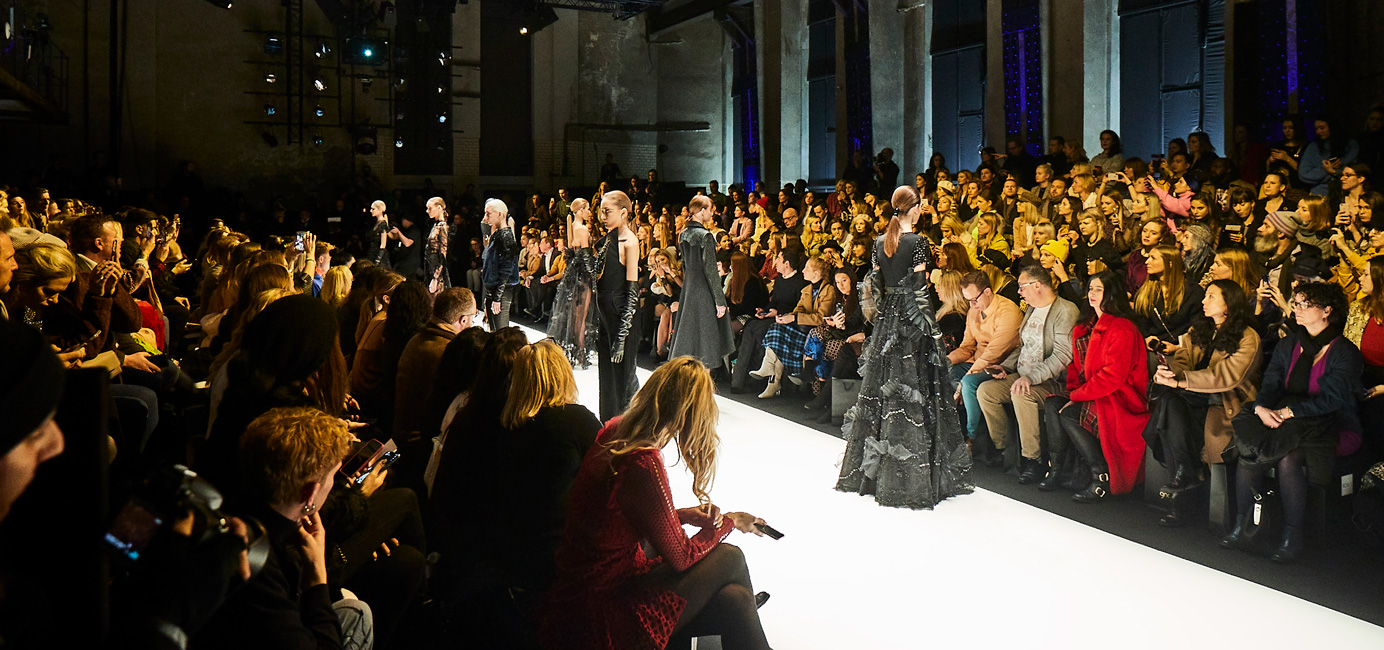 Al Coro meets Irene Luft
---
Dark City
Love of detail and a passion for craftsmanship are equally characteristic of our collections and Irene Luft's designs. This fashion designer devoted hundreds of hours to creating the pieces for DARK CITY, her autumn/winter collection 2019. During Berlin Fashion Week, Irene Luft presented her latest creations to the world at ewerk Berlin on January 15, 2019. And she chose our jewelry to perfectly complement her sensational dresses.
Inspirations for DARK CITY
Irene Luft was inspired to create DARK CITY by the architecture, geometric shapes, reflections and shiny lights in the boulevards of big cities. She combined these influences with finely handcrafted floral appliqués, embroideries and softly flowing fringes. Each piece tells its own unique story and simultaneously embodies Luft's homage to the silent, quiet beauty of the night. Brocade and other weighty fabrics, together with a palette of colors featuring black, dark blue, red and sparkling golden details, conjure the structures and gleaming red lights of a metropolitan night. The contours of the dresses are feminine and romantic, with a touch of soulful melancholy.
An exciting collaboration
All this contrasts enchantingly with pieces of jewelry from our Amori, Amalfi, Serenata and Mezzaluna collections. The sparkle of diamonds and precious gold go perfectly with the dark colors of Irene Luft's individual looks, enhancing their effects and adding a playful aura to Luft's dark romanticism. Of course, we were also part of the exciting and hectic scene backstage at the fashion show in Berlin, where we helped the fashion models put on our bracelets, rings, necklaces and earrings. Afterwards, we returned home with many wonderful impressions.
Photo credit: Volker Renner
Impressions Berlin Fashion Week – Irene Luft DARK CITY, Autumn/Winter 2019: